Content
Music
Theme
Ease of Use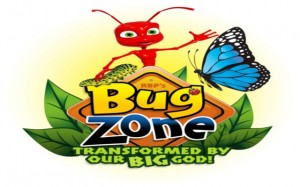 BugZone  by Regular Baptist Press
Content – Kids learn God's presence and power give us courage and strength to obey Him, God can change us to be servants who are ready to do His will, God's love for us gives us joy no matter what happens to us, our obedience is evidence of God's transforming power in us, and God's message of salvation should be shared with everyone as they learn about Joshua, Gideon, Naomi & Ruth, Zacchaeus, and Saul of Tarsus!
Theme – kids will explore the "BugZone" in the great outdoors and discover God's power to transform their lives as they learn they can respond with love, trust, courageous obedience and then thank Him, call on Him and tell others! Get your kids outside this summer and help them discover God's power to transform their lives as they learn about some bugs which "change"!
Music – This year there are big improvements in the area of music – I still would like to see a bit more "pep" and possibly more original music – but you have the option to use music with a piano track or instrumental track. RBP has 10 songs in this year's VBS – BugZone, Shout Hallelujah, Bugs!, Standing on the Promises, My God Is So Great, I Sing the Mighty Power of God, Obedience, Zacchaeus, God Can Change My Life, and the Best Place.
Ease of Use – For the most part BugZone is easy to use, but it would be better if they included a Bible lesson station book with a lesson for all elementary ages for those churches where they want to use a learning station format in place of a classroom format. If they did this, they could take their great learning stations/science projects and put them in a book for a Bible Learning Activity station!
Value – one kit is available at the cost of $79.99.
Cost per student . . .
music is not reproducible, so you would have to purchase cds to give kids at a cost of $14.99 per CD.
Name tags are available in packages of 48 for $5.99
BugZone Explorer Pouches at a cost of $24.99 for 10.
Student activity sheets are available at a cost of $2.99 per child.
Craft kits are available and range in price from $5.99 to $17.99 for packs of 12.
Click Here to see more of Bug Zone by Regular Baptist Press!
Read Lynda's in-depth Review at Top 5 VBS Countdown Bug Zone!