Content
Theme
Music
Ease of Use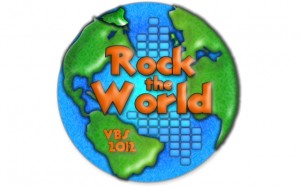 Rock the World by NextGen4Christ
Content – Kids go on tour and learn how Jesus gave up heaven to shine on Earth, how He leaned on God to feed 5,000 people, about the time He didn't back down when the Pharisees accused Him of healing on the Sabbath, how He defeated sin by dying on the cross, and how anyone can belong to the church and change the world! Strong focus on serving others!
Theme – kids are going to be taking God's love on tour!  They will be learning how to be true stars and shine God's light!  But most importantly, they will be learning about the biggest star of all time: Jesus!  He shined God's light and totally changed how we see the world, how we love others, and how we interact with God.
Music – Rock the World uses Hillsong Kids Tell the World CD for their music which has ten songs on it: Tell the World, My Number One, Light of the World, My Redeemer Lives, You're the Answer, I Want the World to Know, Lean on You, I'm Not Ashamed, Power in Your Name, and Yours Alone.
Ease of Use – Curriculum is downloadable and clearly laid out which makes it easy to understand and use. The director's materials are pretty complete and provide you most of the information you need to plan and present your VBS.
Value – three kits are available with three price points, $49.99, $59.99 and $74.99.
Cost per student . . .
music is not reproducible, so you would have to purchase CDs to give kids at a cost of $7 each through Amazon.
Student activity sheets are reproducible so you would just have your copying costs.
All crafts are made from items you collect or purchase, so cost would vary depending on what you choose to make.