Content
Theme
Music
Ease of Use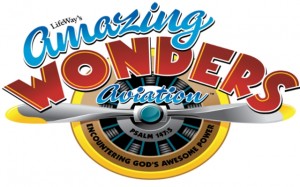 Amazing Wonders Aviation by LifeWay
Content – Kids will learn they can trust God no matter what – because they will see God has power over nature, circumstances, sin, death and their lives, as they learn about a river which stood still, a time when the lion's mouths were shut, why God sent Jesus, even though Jesus died, He is alive and a time when the Apostles took action!
Theme – LifeWay takes your kids on a "trip" around the world to see some of the most amazing things and places – as they do they will learn God's power is amazing and they can trust Him!
Music – LifeWay's music is excellent – high energy and a great sound! This year there are seven songs for kids to sing: Amazing Wonders Aviation, If God, A-M-A-Z-I-N-G, Yes to VBS!, Remarkable, Worthy, and In Your Power.
Ease of Use – For the most part LifeWay's VBS is easy to use, but it would be better if they included a Bible lesson station book with a lesson for all elementary ages for those churches where they want to use a learning station format in place of a classroom format. In addition, along with a book for a Bible lesson station, a station where kids were involved in a science project would also be a great plus!
Value – two kits are available at the cost of $69.99 for the sampler kit and $199.99 for the super sampler kit.
Cost per student . . .
music is not reproducible, so you would have to purchase cds to give kids at a cost of $11.49 for five CDs.
Collectible tokens with the daily point and memory verse are $5.99 per five children
name tags and lanyards are available in packages of 20 for $7.89
Sticker nametags are also available at a cost of $6.99 for 100 tags.
Student books are available at a cost of $2.49 per child.
Craft kits are available and range in price from $3.99 to $7.99 for packs of 10.