Content
Theme
Music
Ease of Use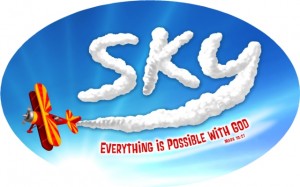 Sky by Group Publishing
Content – Kids will learn they can trust God no matter what – no matter who they are, how they feel, what people do, what happens, or where you are, as they learn about a Roman officer who has faith in Jesus, when Jesus brings Lazarus back to life, when Jesus is arrested and put on trial, dies and comes back to life, and when Jesus makes breakfast for His friends!
Theme – Kids will explore God's boundless love for them while they learn everything is possible with God and they can trust Him! As Group says, "You're in for a high-flying and unforgettable time!" and "The sky is the limit when you trust God!"
Music – Group's music is what we have come to expect from Group – original, new songs which fit their theme and familiar praise songs, all presented with excellent music and motions and chosen to reinforce the Bible lessons – sure to become favorites for churches everywhere. Some of their songs could have used a touch more "pep", but over all I believe people will be happy with them. The CD has 10 songs – Fly!, You You You, No Matter How I Feel, Nothing Could Keep Me From You, I'll Fly Away, Indescribable, Counting on God, Our God, Christ Arose, and We Can Trust Him. I'm very glad to see more boys and children of different races in the DVD this year and fewer teens.
Ease of Use – Group is known for giving us the "easy VBS" and this year is no different. The director's book has most of the information you need to plan and present your VBS, the station leader books are well laid out and easy to understand and use. Information to help churches identify their goals and more thorough information on screening volunteers and VBS safety would be a plus.
Value – one kit is available at the cost of $157.99.
Cost per student . . .
music is not reproducible, so you would have to purchase cds to give kids at a cost ranging from $6.99 – $4.99 per child/family depending on how many you purchased.
Bible Memory Buddies range in price from $3.90 – $3.50 per child – depending on how many you order
name badges are available in packages of 10 for $4.19
name badge holders cost $15.99 for 10
Bugs Pray-er Clips $5.99 for 10
Elementary age children do not have student books, but they do have iOpeners at $2.59 per child with carabiners at $5.99 for 10.
"Sciency-Fun Gizmos" are available and range in price from $3.99 – $9.99 for packs of 10.
"Fly Home & Try It" sticker sheets at a cost of $6.99 for 10.
Click Here to see more of Sky by Group!
Read Lynda's in-depth Review at Top 5 VBS Countdown Sky by Group!