Content
Theme
Music
Ease of Use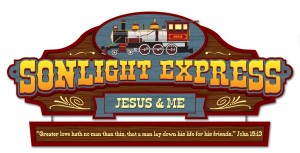 Sonlight Express – Jesus and Me by Bogard Press
Content – Kids will learn about when Jesus met Nicodemus, how Jesus leads His sheep, calms a storm, died and rose again and that Jesus will return again for us!
Theme – Children will get on-board the Sonlight Express and travel through the Great Gorge, Mercy Meadows, Fearless Falls, Timeless Tunnel and Sonrise Summit as they learn how to receive Jesus and follow Him.
Music - This music reminds me of the music I sang when I attended VBS – in the '60′s. I'd really rather see music with more "pep" – music kids will continue to sing beyond VBS.
Ease of Use – The director's book has most of the information you need to plan, prepare and present your VBS, but I would like to see info to help you determine a goal. Everything is pretty straightforward.
Value - one kit is available for $159.99
Click Here to see more of Sonlight Express – Jesus & Me by Bogard Press!
Read Lynda's in-depth Review at About the Children's Department!