Content
Theme
Music
Ease of Use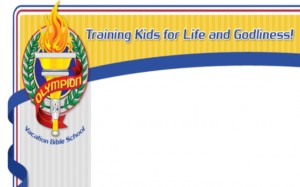 Olympion by VBS Reachout Adventures
Content – Kids will learn about when the Israelites chose to disobey, when they chose to obey, Rahab and Achan's choices and the choice they each must make when it comes to obeying God.
Theme – While experiencing a sports setting, kids will see God is "entirely worthy of their utmost trust and total obedience as they learn all people respond to God, either in faithless disobedience or trusting obedience."
Music – Reminds me of the songs I sang when I attended VBS in the 60's – I just don't think children will want to sing these songs.
Ease of Use – The curriculum is laid out pretty clearly, but there is a lot to learn about keeping points for all the Bible memory and everything else the kids do. I'd eliminate all the "point tracking" – it would make this VBS much more user friendly and put the focus on understanding and applying God's Word, rather than "keeping score"
Value – one kit is available for $49.99
Cost per student . . .
Music is not reproducible, so you would have to purchase CDs to give kids at a cost of $12.25 per CD  (20% discount if you purchase 20 +)

Student Pack with a training manual, stickers and name button-  $3.75 per student