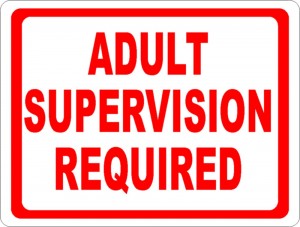 Ok, in Part 1 the essential element of Screening all Kidmin applicants was discussed. Now that we have taken the first precautionary step to insure the physical and emotional safety of our children what's next? Ongoing supervision is also critical to maintaining a safe and secure environment.
Reminder: The #1 goal is to insure the safety and security of every child entrusted to our care.
To safeguard the physical and emotional welfare of our children requires planning and diligence.  The policies that our churches execute must apply to everyone who has contact with children. The steps necessary include:
#2 – SUPERVISION
Identification – Approved volunteers should be easily identifiable.  This can be accomplish in a number of different ways: name tags, t-shirts, color lanyards, etc.  Name tags could include a photograph of the volunteer. Posting volunteer photographs at the entrance of the classroom in another option. Parents will be able to easily identify volunteers and also begin to know them by name.
Two Person Rule – There must be a minimum of two non-related adults present before a child may be checked into a classroom.  At no time should any adult be alone in a room with a child.
Visits – As the primary leader of a Children's Ministry we should regularly visit classrooms.  This gives us an opportunity to monitor both the security and emotional temperature in the room. We can also use this opportunity to observe the teaching techniques being implemented in the classroom.
Report – Any suspected abusive incidents MUST be reported immediately.  The Lead Pastor and pastoral staff must be notified immediately and the incident should be clearly documented.  While privacy and confidentiality should be protected the safety of the child must be our number one concern.  Protect the child, yourself and the church by accurately reporting any suspected abuse.
Next time will look at how we can manage the Security of Check-in and Checkout.