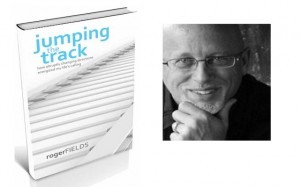 Last week I received a package in the mail from Blitz Ministries.  I just love getting packages in mail! It's always fun to open the package and see what's inside. To my surprise the package contained two copies of Roger Fields' new book "Jumping the Track." This was great…another one of my favorite things to do is read.
Well, the very next day I was leaving for CPC in Orlando so I took the book along with me.  The first thing I noticed was that the booked contained personal photographs of Rogers' family, friends, and ministry partners. What a great way to share a part of the Kidz Blitz story.
Here are a couple of FUN quotes from "Jumping the Track":
"Sometimes you can put a square peg in a round hole, you just have to push a lot harder."
"I have traded predictability for wonder and adventure."
"Apparently, I drank nearly a quart of Super Bloom."
"I was moving full steam in a direction God set for me with no idea where it was all going to end up."
"I created learning experiences instead of teaching lessons."
"Sometimes the smartest thing I did was figure out which direction everything was going and drive full speed in the opposite direction."
I hope these quotes have piqued your interest.  Let me encourage you to get a copy of the "Jumping the Track." I believe you will find it encouraging, challenging and just plain fun to read.  That's one of my favorite words: FUN!
P.S.  Be sure you enter for your chance to win a copy of "Jumping the Track."