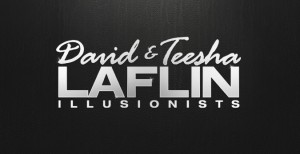 Gospel Illusions capture the attention of kids and help them learn in a way they will not easily forget!  YOU can do it – even if you have never tried a gospel illusion.  Learn how to present fun and effective lessons with these great ideas.
WHY ILLUSIONS?
1. To reach people who otherwise might not listen.
2. To help tell a story in a memorable way.
3. To help illustrate difficult truth.
4. To Capture Attention
WHAT ARE SOME SECRECTS TO USING ILLUSIONS PROPERLY?
1. Explain that the illusions are not "magic".
2. Be excited about what you are doing.
3. Practice
HOW DO YOU GET STARTED USING ILLUSIONS?
1. Begin with simple things.
2. Get "utility" props.
3. "How to" DVD's and Books.
Since 2002, internationally recognized illusionists David and Teesha Laflin have entertained and inspired audiences all across the United States and in several foreign countries through their creative blend of both classic and cutting-edge illusions. Their programs have been featured at numerous conferences and conventions throughout the world and have reached large-scale audiences through their television appearances.
Click here to  learn more about David and Teesha and their ministry.