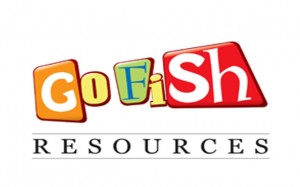 I know that I am always on the lookout for great NEW music for our kids. We believe that the worship component of our Children's Ministry can have an impact long after kids leave on Sunday.  Think about how many songs you could name by simply hearing the first few notes.  How did you learn your ABC's?…the Books of the Bible?  Music has the capacity to make things fun and memorable!
With that in mind I want let you know about the Go Fish Guys latest DVD release. Oh, and be sure you Enter for your chance to WIN the DVD!
Just a week ago I had the privilege of attending CPC and Go Fish led worship for the week…great music…great heart…and a whole lot of fun.  So, here's how they describe their latest project:
Kids of all ages will be movin' and groovin' to this all new DVD featuring the music of Go Fish along with Denver and the Mile High Orchestra!  These two bands are leading the way in the world of children's ministry by making great music for kids that won't drive parents bonkers!
Created for the Go Fish vacation Bible school curriculum "Praise", this DVD includes 8 all new videos with lyrics and choreography included.  This is the perfect way to engage your children in praise to our great God at home, church, or in the minivan!
SONGS INCLUDE…
• Shackles (Praise You)
• Movin' To The Beat (DJ Pray-Z Dance Mix)
• If You're Happy And You Know (Band Mix)
• All Of My Heart
• Sunday School Swing
• The Crazy Dance
• I'll Do My Best
• Get Down
Bonus features include karaoke videos, choreography teaching videos, and promotional videos for the Go Fish "Praise" VBS curriculum.
I want to encourage you to visit the Go Fish Guys website and give their music a listen.  Leave a comment and let us know what you think! Don't forget to enter our Go Fish Guys DVD Giveaway for your chance to WIN!