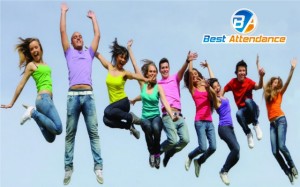 Best Attendance is a new website allowing youth leaders to take attendance, share event calendars, communicate with youth, and update membership rosters online.
The software helps you increase accountability in your group by providing graphical, customizable attendance reports that help you identify any members at risk of falling through the cracks.  There are several ways of taking attendance, including using a barcode reader, printing sign-in forms, or letting members sign in on a computer.  The software lets you keep members informed by sending emails or text messages to individuals, groups, or your entire organizations.  Plus, students always know what's coming up by viewing the shared event calendar online.
World class attendance tracking.
The software provides several ways of taking attendance:
Use a barcode scanner to sign students in.
Use a touchscreen device such as an iPad to have members sign themselves in.
Print a customized sign-in sheet and enter the data later.
Have your students sign in on a laptop or desktop computer.
All of these options mean that you can literally take attendance anywhere, including on mobile devices such as iPads and iPhones. If you have multiple classrooms, you can even let people sign in from more than one location at a time. The best part is that the only thing required is a computer with an internet connection.
Stay in touch with group texts and emails.
Your subscription includes 300 free text messages every month (just two cents per message after that). You can send text blasts to groups that you set up, individual members, or your entire organization at once. Many organizations use this feature to send monthly newsletters or weekly updates to their students.
Improve student accountability.
The real reason to use Best Attendance is to make sure that your ministry is reaching each and every student. The powerful analytics make sure that you're doing so. The built-in and customizable reports will help you answer questions such as these:
When was the last time a particular student showed up?
Who has been attending the fun activities but skipping the staff meetings?
Who has a birthday this month?
Is our overall attendance going up or down?
Do 7th graders have better attendance or 8th graders?
Who had the best attendance record in the last year?
Best Attendance provides four different views of your attendance data, including: individual attendance details, attendance summary by member, attendance summary by event, and a last seen report. Reports are enhanced by visually stunning charts.
Share your event calendar.
Keep your students and staff informed by sharing your event calendar and linking to it from your website. Of course, if you'd like to keep it private, that's fine too. In that case, only users you authorize will be able to see it.
You can sign up for a 14 day FREE trial at Best Attendance, and subscriptions are just $22 per month.