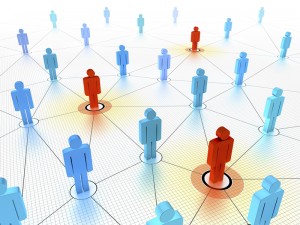 Networking has never been easier. Between conferences, email, Twitter, Facebook and blogs, there is no shortage of opportunities to collaborate with other children's ministry leaders. This presents a huge opportunity, because it allows ideas and resources to shared with record speed, but the sheer amount of available information can be staggering. With that in mind, here are a few tips to increase your networking prowess.
Be a collaborator. Sometimes it's tempting to meet people and simply take in their advice. The best way to network is to do so through conversation, so make your networking a give-and-take experience. Share feedback, ideas and critiques while you receive them. Make sure you are a networking partner, rather than simply an advice seeker.
Think locally. Take some time to sit down and come up with a list of churches or organizations that are leading the way in your area, and then try to get together with the people heading them up. Offer to buy coffee or lunch, and then pick your brain.
If there's no local children's ministry network, create one! Pick a time and a coffee shop, and then get in touch with local churches. See where it goes!
Hop on Google Reader (or any other RSS reader), and make a list of blogs that you enjoy reading. Consider making it your homepage. That way you can keep yourself plugged into the stream of ideas.
Create a Twitter account. You don't need to post frequently (or at all). Simply follow great children's ministry leaders, and occasionally search what people are tweeting with the hash tag #kidmin. You'll be overwhelmed with great tips, insights and articles.
When you're stumped in a particular area, network strategically. For example, when I recently got the feeling that I needed an outsider's eye to get advice for our 5-6th grade ministry, I called a friend of mine who is an accomplished Jr. High pastor. There are people with all sorts of areas of expertise, so when you are faced with a particular challenge, ask strategically.
Take great notes. Make sure to write down ideas that spark your interest, and then investigate whether it makes sense to adapt them for your context. A friend of mine recently said, "There's no stealing in ministry – it's called networking". That's so true, so when you find a great idea, feel free to make note of it and borrow it!
What about you? What tips do you have for more effective networking? Please make sure to pass them on in the comment section below, and keep looking for opportunities to connect with other great children's ministry leaders!