Content
Theme
Music
Ease of Use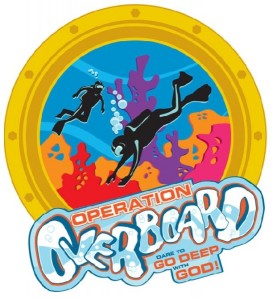 Operation Overboard by Cokesbury
Content – Children will learn about Noah, a servant girl who cared, how John proclaimed Jesus, when the disciples chose to follow Jesus and when Paul delivered the Good News.
Theme - Kids will be challenged to dive into the waters of God's Word and discover what it means to have deep faith as they spend time deep in the ocean!
Music – Songs for this VBS had a VBS sound . . . songs which fit the theme/setting.  There are ten songs: Operation Overboard, I Depend On You, Deep Deep Deep, Dive (my favorite), Dare to Care, Blessed Be Your Name, Claim the Name, Live By Faith, I'm Gonna Choose and Go Change the World.
Ease of Use – Operation Overboard is very easy to use – the director's book is very complete and the teacher's books are clearly laid out and easy to follow.
Value – Two kits are available for $49.99. and $89.99
Cost per student . . .
Music is not reproducible, so you would have to purchase CDs to give kids at a cost of $3.99 per CD
Scripture Treasures range $14.99 for a package of 12 sets of five
Mesh Dive Bag – $8.99 for a package of 12.
Name tags – $3.99 for packages of 24
Name tag holders – $15.99 for 12
Student Journals -  $2.99 per student
Crafts range in price from $10.99 to $23.99 for packages of 12