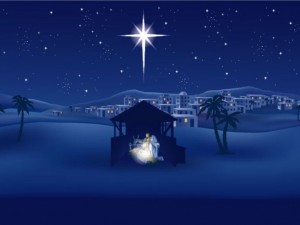 I grew up in a church –as did many of you – and O Come All Ye Faithful is one of the Christmas carol/hymns I remember hearing and singing for all my life. I thought it would be interesting to find some background info on this familiar song and then pause for a moment to take a look at the message because sometimes when something is so "familiar" we end up "missing" the message.  First for some background info . . .
This song was written by John Wade and was originally intended to be a hymn. Some say the music to O Come All Ye Faithful was composed by John Reading, but others say the actual composer was Samuel Webbe.
Now for the lyrics . . .
O come all ye faithful joyful and triumphant Oh come ye O come ye to Bethlehem; come and behold him born the King of angels; O come let us adore him, Christ the Lord.
Sing choirs of angels sing in exultation sing all ye citizens of heaven above; glory to God in the highest: O come, let us adore him, Christ the Lord.
Yea, Lord, we greet thee, born this happy morning; Jesus, to thee be glory given; word of the Father, now in flesh appearing: O come, let us adore him, Christ the Lord.
So . . . in Luke 2:15-16, we read about the response of the shepherds to the angel's message: "15When the angels had left them and gone into heaven, the shepherds said to one another, 'Let's go to Bethlehem and see this thing that has happened, which the Lord has told us about.' 16 So they hurried off and found Mary and Joseph, and the baby, who was lying in the manger." (NIV)
Can you imagine what it would have been like for the sky to fill with angels?!!! Can you imagine how you might feel if you received the message these shepherds did?!!! When you sing this song with the children in your church, pause. Ask them to close their eyes and imagine they are sitting on a quiet hillside in the dark, watching over their sheep when suddenly!!! The sky fills with angels!!!!! Not girly, cute, frilly little, sweet angles, but big, strong, frightening he-man angels!!! This would most certainly get their attention!!!
And the message!!!! God has sent the Savior . . . He is born to us!!!! Amazing! The shepherd's response is the right response . . . get up and go!!! Immediately!!! And quickly!!!
Their response is the message of the song, O Come All Ye Faithful . . . Let's come! We are joyful! Let's come and adore the One Who is born the King of Ages. Come and let's adore Him! We saw and heard choirs of angels sing and now we say glory to God in the Highest as we greet Jesus, this very, very happy morning! All glory be given to Jesus and we will adore Him!
This is quite the song and quite a message! What will you do this week to share this amazing news and adore Jesus?!!!