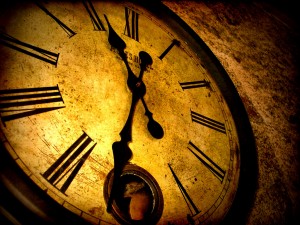 As the New Year approaches most of us begin to think about New Year's Resolutions. With that in mind I sat down this morning and thought about how I spend my time as a leader of families. The way we invest our time communicates our values and priorities.  Thinking it through I came up with five areas in which I believe we can all do some self evaluation:
 Quiet Time – It's the most important part of what we do as spiritual leaders and yet it is the first thing that gets pushed out of a busy schedule.  Martin Luther has been quoted as saying "If I felt too busy to spend an hour in prayer I would immediately stop and spend two." Wow! That was a guy with his priorities in order.  My goal this year is to be more committed to making this priority #1 and not letting it get squeezed out of the schedule.
Prep Time – I hear from so many Children's and Youth leaders that talk about how they are prepping for their class right up until it starts.  My encouragement to them is to do the prep on the front end!  WE should schedule time early in the week to prepare everything for the coming Sunday morning or Wednesday evening. This will allow us the opportunity to tweak it and we'll be in a much better frame of mind when the program begins.
Gospel Time –   I have read through and used curriculum that teaches a good Bible lesson but doesn't get to the heart of the matter.  Our goal should always include sharing the Gospel at every opportunity. This year let's Keep the Main Thing the Main Thing!
Disciple Time - We all agree that we need to be creating disciples.  How much of our time is spent helping kids and parents become disciples?  When we look at our schedule do we have time blocked out to create the necessary resources and an opportunity to communicate with the parents? When we recognize that the parents are to be the spiritual leaders then we are called to help them succeed.
Community Time - How much of our time is spent in our little church bubble vs. engaging our community? I believe we should all be proactive and seek out opportunities to connect with our communities. We should not operate under the idea that they should come to us…we should be out serving them.
Well, there you have it – a few things for all of us to consider as we prepare for 2012.  So, what do you think?  What would you add to the list?  How would you accomplish some of these goals!