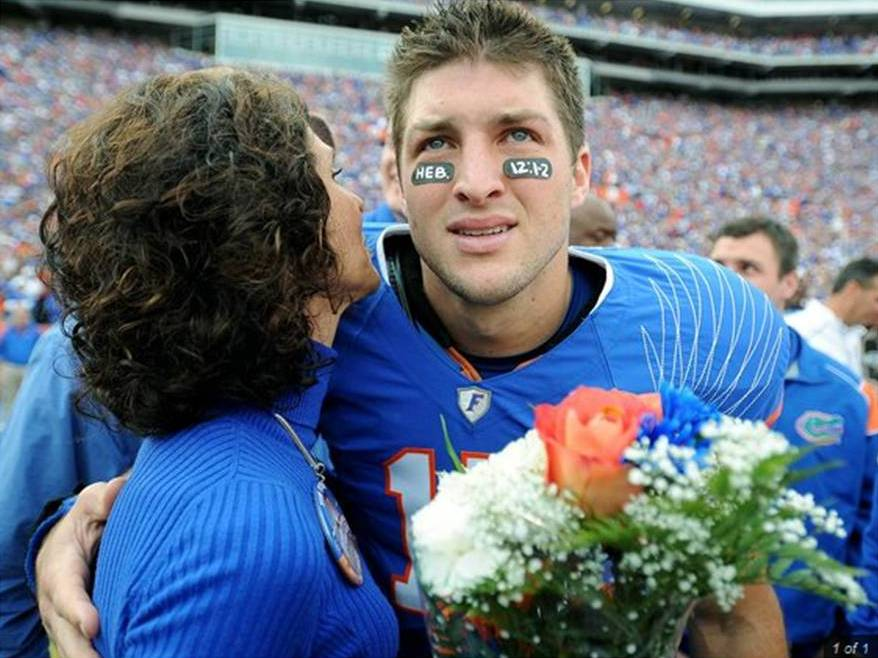 After posting the video of Tim Tebow Mic'd Up my wife and I had a discussion about what a great role model he is to everyone around him.  That led to the question: What do you think Tim's parents did to nurture such an amazing young man – one who has incredible drive and is a flat out Jesus Freak.  So this morning I did a little looking around on the web and found  an article posted on  Next Gen Parenting and have included an excerpt here:
"The practice of Scripture memory was a key element in the Tebow home, and though the vivacious, outgoing mother of five — and grandmother of two — describes herself as non-musical, Pam Tebow easily chanted the words to one Scripture truth in a sing-song voice — demonstrating her method for teaching life-long lessons:"
"A man who walks with wise men will be wise,
"A man who walks with wise men will be wise,
"A man who walks with wise men will be wise,
"But the companion of fools will suffer harm."
"I just have seen the fruit of God's Word in the lives of my children and I am very, very grateful for that," she said. "I can't take credit for any of this — it's God's doing. But as mothers, I think we have to be faithful."
Tebow said she remembers her husband telling the children: "If you hang around with fools you are going to suffer harm. You need to hang around with wise people."
With Tim, Pam Tebow said one verse she especially remembers is: "Let another praise you, and not your own mouth; A stranger, and not your own lips" [Proverbs 27:2].
"Somebody else has to praise him; he can't praise himself," Tebow said of her son, who by now is quite acclaimed. "And how do you learn that you don't brag?" she asked rhetorically. "You can tell them that, or the Holy Spirit can prompt them with the powerful Word of God. That's just so effective."
So, Memorizing the Word of God is obviously one major factor in the raising of a "Tim Tebow" today.  I would encourage you to read the rest of the story at NextGen Parenting and to also visit the Bob (Tim's Dad) Tebow's website!