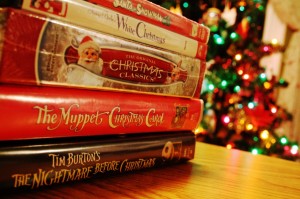 One of our favorite Christmas Traditions in the Tusing home is popping a giant bowl of home-made, melted butter popcorn and sitting down together to watch a Christmas Movie Classic.  This is a list of our Top Ten Christmas Movies:
Elf
Will Ferrell brings the laughs in this 2003 movie about a boy who was raised by elves. When Buddy the Elf heads off to New York to find his real dad, he has a bit of a hard time fitting in with his elf costume and love of all things maple syrup.

National Lampoon's Christmas Vacation
Ahhh, family Christmas. In this laugh-out-loud movie from 1989, Clark Griswold (played by Chevy Chase) is gung-ho about having a good old-fashioned family Christmas.

Home Alone
Any movie that reigns the box office for 12 weeks straight is bound to become a classic. In 1990, Macauley Culkin starred in his breakout role as an 8-year-old who gets left behind when his family takes off for vacation.

Rudolph, the Red-Nosed Reindeer
This classic made-for-TV Christmas movie premiered in 1964 and it's been delighting generations of kids ever since.

Santa Claus Is Comin' to Town
This 1970 TV movie is also an old holiday favorite. It's about Kris Kringle—the man who becomes Santa Claus—and how he brings toys to children in a town that has outlawed them.

A Christmas Carol
Whether you like the 1984 version starring George C. Scott or the remakes (versions were made in 1976, 1977, 1999, and 2000!), this is a holiday classic.

How the Grinch Stole Christmas
The original 1966 animated classic is the only version that does justice to Dr. Seuss. In it, the Grinch tries to ruin Christmas for the Whos in Whoville by stealing their presents, trees, and holiday treats.

A Charlie Brown Christmas
In this half-hour Christmas special, Charlie Brown becomes the director of the school holiday pageant and goes out with Linus to buy an aluminum tree for the show. Instead, they bring back a forlorn real tree.
It's a Wonderful Life
What holiday movie list would be complete without this 1946 Frank Capra classic, starring James Stewart?

Miracle on 34th Street
In this sweet 1947 movie, a Macy's executive tries to find a new store Santa. She hires an old man named Kris Kringle who claims to be the one-and-only Santa Claus.

A Christmas Story
This 1983 comedy celebrates the sort of Christmas a young boy may have had in the 1940s. Young Ralphie Parker wants only one thing: a Red Ryder Carbine Action 200 Shot Range Model Air Rifle.
Ok, it's really our Top 11!  We just couldn't leave out any of these favorites.  So, what do you think?  Which one is your favorite?  Which movie or movies would you add to the list?