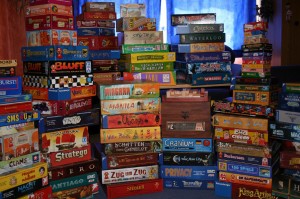 At the Tusing home Board Games are a staple of family entertainment.  I have loved playing board games for as long as I can remember.  My kids have all grown up playing games with Julie and I. It's one our family's favorite things to do together, especially during the holidays.
One of the things I love about playing together is the conversation that happens during the games. It's what makes playing board games as a family unique. With so many of the video games a real conversation is next to impossible…you must focus all your attention on the screen and the myriad of buttons on the controller.  With board games there is a natural ebb and flow that encourages and facilitates family interaction.
Another great thing for those of us that are budget conscious – it is cheap entertainment.  We have six kids so a trip to the movies – without snacks – $70.  Add a drink and popcorn – $140! Even if we were to purchase a new game, popcorn and drinks – $30 total – and we get to keep the game.
With that in mind let me share some of our Favorite Games.  Of course there are the standards that you can find at any Walmart or Target:
Monopoly – Uno – Cranium – Yahtzee – Apples to Apples – Risk
But, if you want to think outside the box and are willing to hunt down a True Game Store (one of my favorite places to visit) here are some games that we love:
Ticket to Ride – Qwirkle – Carcassone – Wits and Wagers
It has become a fun family tradition during the holidays to play a New Board Game together.  We play games all through the year but it's especially fun when all are kids are home together.  Let me encourage you make it a priority to play together and build memories this Christmas.