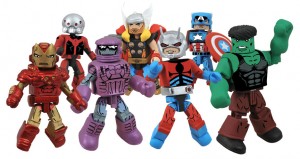 Pause for just a second and think about the ideal volunteer. What traits do they have? Are they goofy, warm, organized, funny, or entirely different? Of course, we know that every leader is different, but I'd wager that most of us we have a somewhat defined idea of what a good children's volunteer look's like. That mental image can help you find leaders, but sometimes it can make it hard to recognize gifts that are outside of your expectations.
To start out, what are some reasonable traits to expect from all children's ministry leaders? Some are obvious – a love for God and His word, a love for students, a sense of humor, etc. The fact of the matter is not everyone is cut out for children's ministry, and if you are leading volunteers, it's important to make sure that everyone is in the area of ministry where they can make the greatest impact.
In my opinion, however, the more challenging aspect of leading other volunteers is recognizing and utilizing gifts that are different than your own expectations. For example, if you have a volunteer that seems stiff around kids, they may be great for children's ministry, but need to be in another area. In fact, they may be better utilized organizing materials or helping with check-in. The fact of the matter is that children's ministry is a varied enough endeavor to utilize almost any set of gifts. The challenge is to recognize and take advantage of them. With that in mind, here are a couple of tips to help take advantage of people whose gifts don't fit your children's volunteer ideal:
Make sure you take the effort to recognize someone's true strengths. If a volunteer isn't thriving, it's usually a matter of changing your approach to match their gifts, so take the time to identify them accurately.
It's important to create opportunities for all types of people to serve. Children's Ministry should provide opportunities for people with the gift of teaching, leadership, organization, hospitality and many more. It's worthwhile to create a ministry diverse enough to involve all types of people.
Look inward. If we're honest, our "ideal volunteers" probably look a lot like us. For me, it's been important to recognize my own strengths and weaknesses, because it helps me recognize and appreciate people who have abilities that complement mine.
Creating a diverse set of volunteers takes a lot of work, but the versatility is well worth-it. Don't hesitate to seek out people whose gifts and talents don't fit your ideal image of a children's volunteer. They are the ones who will really stretch your ministry in new ways.