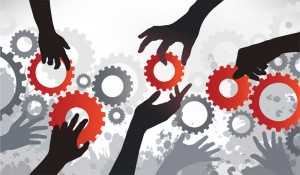 2012 is about to be a reality and with the New Year comes New Year's resolutions. I know a lot of people cringe when they hear that because sometimes the meaning of a resolution gets lost. In a few months those resolutions become easily forgotten and we even begin to make jokes about what we haven't accomplished. Recently I have been thinking about this year a lot and considering how I can improve our children's ministry for 2012 and even into the distant future. In order for me to get ready to lay the foundation I needed some help to get started. I came across a couple of books by Jim Wideman called "Stretch" and "Beat the Clock" I have been going through these books to help me figure out what it is that I need to do in order to lay that foundation. If you're like me I tend to do things myself and it's killing me. Doing it all yourself makes you feel like you are in this alone and this also leads down to a path that you don't want to travel. Here are the things that I wrote down and have begun to implement for this year so that we can begin to build on a sturdy foundation:
1. Align the vision
The first thing that needed to happen for me was to go back and determin what is it that we are doing or need to be doing. What is the vision for the church that we can bring to the children's ministries at our church? Having an aligned vision will help us to plan out events and even missions opportunities for our kids.
2. Align Leaders
I looked at all of our ministries and looked at the leaders who are over these ministries and even the ministries that don't currently have leadership. I now have to begin to find those leaders who can lead these ministries. I even wrote down leaders that I believe we need even though our church has never previously put a leader over a certain area.
3. Align Volunteers
I wrote down every volunteer that we had and put them in the area that they are serving. Next, I placed them in the weeks and months that they are serving. This helped me to to determine where we are adequately staffed and where we need the most help. Doing this helped me visualize where we are currently and encouraged me in some areas where I thought we were in desperate need.
After I had completed these steps it's now time for the planning to become a reality. My next step is scheduling a meeting with all of my core leaders. I need to get them involved in what we are doing and share the vision with them so that they can share the vision with their leaders. My goal at the end of this coming year is to have all my leadership in place and to have grown our volunteer numbers. But, most importantly my desire is to instill an excitement into the children's ministry program where leaders areexcited to be on the team and kids are excited about coming