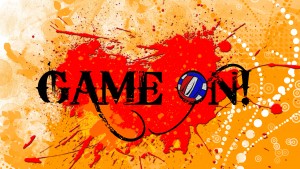 Game time is a crucial element in our large group setting.  Our kids love the games we play and even request some games over and over again.  We work diligently to make sure that Game Time is Exciting and Fun.  Our Game Time happens very early in the service and it often sets the tone for the day.  A poorly executed game is a terrible way to start a program.  With that in mind these are our Top Ten Ways to make Game Time AMAZING!
10.  Know how to Play the Game – be very familiar with how the game works. Know the rules and how to score the game.
9. Be Prepared! – have all of your supplies ready to go in advance. Double check just before the service starts.
8. 30 seconds or Less – it should take less than half a minute to explain the game.  If it takes any longer the audience will lose interest.  It's OK to start with a little confusion.
7. Make it Visually Appealing – if it's a stage game, make sure that it is fun for the audience to watch and cheer for the contestants.
6. Encourage/Insist that your Leaders  Play the Game – one of the best ways to build relationships is for leaders and students to play together.
5. Points are FREE – give away lots of points…it's much more exciting to win 10,000 points than to win 10 points!
4. Keep the Score Close – give points for enthusiasm and teamwork to keep things interesting.
3. Candy – Candy – Candy – Candy is your friend!  Kids from 5 – 55  love candy and it's a cheap prize!
2. Be Flexible – sometimes things don't go as planned – play it off and keep it going.
1. Get the Right Leader – your game leader must be enthusiastic, energetic & FUN!
What would you add to this list?  What are some of your favorite games?  Let us know by leaving a COMMENT!