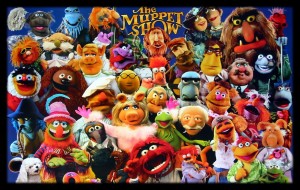 Yes, I wrote the title but I would contend they have always been with us! I love the Muppets and have since Jim Henson introduced them to Prime Time in 1976.  Ok, that does reveal my age – but it has been said that with age comes wisdom.  This past holiday weekend reveals that there is still a love for the Muppet style of entertainment: outrageous physical slapstick, sometimes absurd comedy, and humorous parodies. 
In the realm of Children's Ministry it has been claimed that Puppet Ministry is dead.  My contention is that Puppets done well definitely still have a broad appeal.  Take a look at these notes from this past weekends Muppet Movie:
New Disney movie "The Muppets," starring Jason Segel and Amy Adams alongside Kermit, Miss Piggy and their puppet friends, took in a strong $29.5 million at North American (U.S. and Canadian) theaters in three days. The five-day holiday weekend haul reached $42 million domestically.
"It's hard to have anyone argue we didn't bring them back," said Dave Hollis, Disney's executive vice president for motion picture sales and distribution. The movie's performance "exceeded expectations," he said.
Critics loved the new Muppets movie, with 98 percent giving it a favorable review, according to aggregation website Rotten Tomatoes. Audiences awarded an A rating on average, according to exit-polling firm CinemaScore. 
My belief is that any medium done poorly has little appeal or impact. Poorly Executed Messages, Sloppy Video or Lame Game Time would all be soundly panned and ignored by the audience.  Yes, I have witnessed all of the aforementioned in the past.
My challenge to each of us is to rethink our opinion of utilizing a ministry tool – Puppets! To do it right takes a great deal of hard work and commitment – it's worth doing right!  I know first hand that Puppets can also be an incredible way to include students in ministry who don't play a guitar or sing. Oh, and BTW Puppets are a great deal of FUN!
So, what do you think? Are you willing to give them a second look? Are you willing to invest the work to do it well? Let's hear your thoughts, leave a Comment.