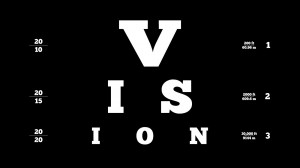 WIthin the past four months, my title has changed from Children's Pastor to NextGen Pastor.  With this comes the responsibility of overseeing ministry to all ages from birth through college.  One of the reasons for this shift is our desire as a staff to ensure that we are ministering to every age group with great intentionality and purpose. We want to be able to offer a comprehensive program to families who would raise their children in this local church.   Making this change has helped open up channels of communication within the various age groups and allows us the opportunity to work more as a ministry team, as opposed to isolated silos.
As I've been working my way through reviewing what we have been doing, what's been strengths, what's been weaknesses, I've become more and more aware of how important a vision is to any ministry area.  Often, we hear Proverbs 29:18 referenced concerning vision, "Where there is no vision, the people perish." (KJV).  How true that is to all aspects of ministry.
What if we changed that up some? Where there is no vision, monies are spent unwisely.  Where there is no vision, we teach the same stories over and over again.  Where there is no vision, we are easily talked into the latest fad or project that a parent wants you to do.  Where there is no vision, 18 years go by in the life of a child and you aren't quite sure what they learned from their time spent in church.  The list could go on and on.
I have become more and more convinced that vision should drive all that we do in ministry.  Vision will give us that direction for planning. It will keep us from straying down so many paths that nothing ever truly gets accomplished.  Vision will help us as we partner with families.  They need to know what we would hope for their child as they walk through the various age-level ministries.  Vision helps to keep us focused on that which God has revealed to us as the  path we should take.  Here are some things I'm learning related to vision:
-  It must come from God.  If it is not God inspired than that which was once a burning passion in your soul eventually just flickers into a smoldering ember.  Check yourself.  Do you feel passionate about the vision for your particular ministry?  If not, talk to God.  Seek his wisdom.  Ask for his vision for the ministry that he allows you to lead.
-  It must be repeated often.  I have discovered through my years of ministry, that regardless of the number of announcements made, emails sent, facebook statuses posted, or posters hung, someone will still seem to not know even the most basic details that have been advertised endlessly.  So it is with your vision.  Don't ever assume that your parents or your volunteers know the vision for your ministry.  Advertise often.  Hang in throughout the building.  Make it a tag-line on all emails.  Repeat it often.  Let it be read so often that many would have it memorized.  This is the current step I'm still working on.
-  Review it yourself often.  Since God has given you this vision, you may wonder why you would need to review it.  The fact is, lots of people will have lots of ideas for new things to try, new things to implement, new things to schedule.  New ideas are great.  I, in fact, love change.  However, we must use our vision as our guide to keep us from adding so many "new" things, that we don't excel at any of them.  Allow your vision to be your permission to say no to those things that won't help you attain the vision set for ministry.
I believe this is a continuous process.  These thoughts come not from one who excels with the above points, but as one who is currently working through them, and learning to live them.  The time we have with the kids and students in our ministries is but a small percentage of their overall life.  We must be intentional in all that we do while we have them.  We must seek a vision from God, and allow him to give us the wisdom to follow that vision.  Does your vision lead you in ministry?  What challenges do you face in allowing your vision to guide decisions you make regarding ministry to children and youth?