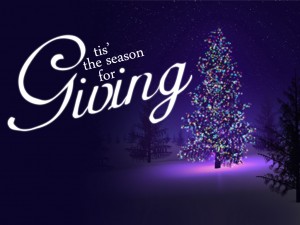 This Sunday when you are at church, pause for a moment and listen as the children talk. Are the talking about Christmas? It is just around the corner! When they talk about Christmas, what do they say? Do they talk about the things they are hoping to find under their Christmas tree? The closer we get to Christmas, the more kids will be thinking and talking about the gifts they would like to get – gifts tend to be a big part of Christmas for most kids – but what can we do to help kids focus on giving?  How can we help the children in our ministries focus on giving to others in their own communities? Consider the following?
Check your records and see which families in your church and/or community are experiencing particularly difficult times this Christmas. Ask them if your children's ministry could "sponsor" their family by collecting gifts for them this year. (Be prepared to keep the family "anonymous" – just call them your special Christmas family) Check with the family to find out a gift each person might like and then add a warm sweater in appropriate sizes and books and have children/families in your church sign up to get specific gifts for your special Christmas family. Plan a party to wrap the gifts and then have someone deliver the gifts to the family before Christmas. Consider adding a turkey and all the fixings for a special Christmas dinner, too!
Hold a special community Christmas party. Plan games, food and gifts – simple under $10 gifts are fine – and involve your church children/families in bringing all the things you need to reach out to your community and give them a special Christmas party! Simply, without pressure, share the good news of the best Gift ever and enjoy the opportunity to give to others this Christmas!
Plan a "Gift-Giving Party and encourage children and families to bring new, unwrapped toys to church for you to give to families in your church/community who otherwise might not have gifts under their tree this year.
Whatever you decide to do, remember to encourage everyone to pray for children and families and keep your focus on giving rather than receiving. After all, God gave the Best Gift ever to us the very first Christmas so, Christmas is about giving!