BALLYHOO – beat the drum for, boost, get ink for, make a pitch for, put on the map, throw spotlight on!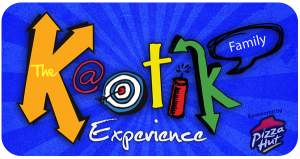 The K@otik Family Experience is designed for elementary age kids and their families.  It will be a time for high-energy music, interactive games, side-splitting comedy, illusions, and all-around clean family fun!  We want to kick off the new school year with something a little more exciting than sitting on the couch or going to see a movie.  Bring your church. Bring your friends. Bring your family.  It's more than concert. More than a show.  Don't miss out!

What is The Big Day of Serving???
The Big Day of Serving brings together youth groups throughout your city for ONE DAY of service that will revolutionize an entire neighborhood!
When you think about The Big Day of Serving, picture this: a thousand teenagers from youth groups in your area uniting to serve a neighborhood in need.
They'll tackle an area the size of several city blocks and bring help and hope to people by working on projects like painting, home repairs, landscaping, cleaning and beautifying city parks, cleaning vacant lots, and cleaning schools and nursing homes.
They'll be part of a new movement of Christian teens across the country who are uniting to show what it means to be the hands and feet of Jesus.
How do you get involved? It's simple. Register your youth group (grades 6-12) for the event nearest you and we'll take care of everything else…visit www.bigdayofserving.com

David & Teesha Laflin – Christian illusionists with a passion for ministry
Thousands of people have been impacted by their unique and creative way of presenting the life-changing message of Jesus Christ.
Since 2002, internationally recognized illusionists David and Teesha Laflin have entertained and inspired audiences all across the United States and in several foreign countries through their creative blend of both classic and cutting-edge illusions. Their programs have been featured at numerous conferences and conventions throughout the world and have reached large-scale audiences through their television…
Read more about David and Teesha