Entertainment Value
Artwork
Biblicaly Accurate
Story
Value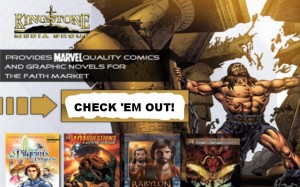 Growing up one of my favorites things to do was to visit the Comic Book store in our little town.  As a kid I would jump on my bike as soon as I got my allowance or collected from my paper route and head downtown (it was small but it was our downtown) to this little hole-in-the-wall store.  It couldn't have been more than 600 square feet…but it was an incredible place to me.  When you went inside there were comics, magic tricks, trading cards, and candy.  It's the kind of place I love to go to even now!
Today I am a voracious reader and I think my love for reading began with those adventures I experienced through comics.  Recently I was introduced to a brand new Comic Book company – Kingstone Comics.  They create and produce Christian comics and comics that portray Biblical stories.  Now, don't tune me out yet.  I know that most Christian Comics are lame and almost embarrassing to anyone who appreciates the art form.  However, as one who has had a love for comics for over 40 years let me testify that is not the case with Kingstone Comics!
Art Ayris, the president of Kingstone Comics, sent me copies of 101 Questions About the Bible and Christianity, The Christ and Jonah.  A couple of the questions addressed in 101: Where did Cain get his wife? What does the Bible say about Dinosaurs? Does the Bible mention aliens or UFOs? Certainly these are often questions asked by our target market – kids and teens.
Wow! As a result of past experiences with "Christian Comics" my expectations were low yet, I was completely blown away by the quality.  The Artwork is second to no one – it is definitely comparable to Marvel, DC or Darkhorse.  The style is contemporary and the content is Biblically accurate.  As a Christian, Pastor and Comic aficionado I am proud to recommend Kingstone Comics! Make sure you visit their website www.kingstonecomics.com and take a look at their work.
Well, do you have a story about Comics? an opinion about Comics?  Let's hear it.  Leave a Comment!