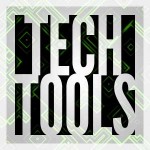 by Keith Tusing
I am following up on our two previous posts encouraging us to take advantage of technology.  This week both Timothy and Kevin shared posts which encouraged all of us involved in ministry to take advantage of the Tech Tools we have at our disposal.  I've found that when tech is mentioned we most often relate that to Audio/Visual tools.  Today I want to encourage us to think outside the A/V box and share Five Web Based Tools that can increase our creativity and productivity:
Remember The Milk, organizes tasks into various lists, set due dates, postpone or repeat tasks, add notes, print lists and so on. It integrates with Gmail and other services with add-ons.
Dabbleboard, write down ideas or draw diagrams freehand like using any traditional whiteboard, or allow the system to turn them into correct shapes. Easy to collaborate but protection is limited to a paid-for account.
FFonts, a useful resource to search for new or top fonts by category, download and unzip them for installing and adding more fonts to your system.
Micropoll, create a simple poll with a question and multiple-choice answers in live preview, and use it wherever you want to post the poll. Features include enable or disable visitors from viewing reports, IP blocking and more.
Prezi, a cloud-based presentation software and storytelling tool for exploring and sharing ideas upon a virtual canvas. Text, images, videos and other presentation media are placed upon the canvas, and can be grouped together in frames. Prezi's stated mission is to "make sharing ideas more interesting", and it is intended to be an intuitive tool to develop and share ideas as a visual narrative.
So, take a look at each of these and let us know what you think.  Have you used one or more of these?  How? Do you have a recommendation for a tool to add to this list?  Share your Thoughts and Comments!