BALLYHOO – beat the drum for, boost, get ink for, make a pitch for, put on the map, throw spotlight on!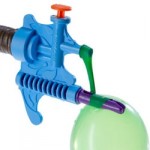 What a great asset for water themed activities you will be hosting . It's a water ballon fill and tie tool all in one easy to use invention. This is an incredible time saver and "blister preventer"!

Help set a new Guinness World Record for "Most People Sport Stacking at Multiple Locations in One Day." The number to beat is 316,736! Now's the time to register to help set a new Guinness World Record™

Chip gives Rodney a cheery greeting. Rodney sees it as a veiled threat.
This was the first in a series of comic strips Kevin drew for a NAEN Ministries about ten years ago. The ministry has since left the Internet, so it was time to bring them back.
Chip is a nice guy working in a technology company. Rodney is the bitter, older curmudgeon who sees Chip's cheery disposition and a threat to all humanity. Yet, they seem to get along.
Kevin will will posting the strip each Monday on his website www.kevinspear.com.