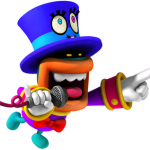 Ballyhoo - beat the drum for, boost, get ink for, make a pitch for, put on the map, throw spotlight on!
The Buzz Ballyhoo! This is our "Shout Out" for some of the things on the web that we have found to be beneficial, interesting or just plain funny.  We'll post info and links right here onCM Buzz to the sites that make it on our list.  Feel free to submit your Suggestions or Comments to the Buzz Ballyhoo!  Check out the Buzz Ballyhoo #2!:
SEEDS – you have got to see Church on the Move's Seeds website to believe it!  Church on the Move is located in Tulsa, Oklahoma and it's one of the premier churches when it comes to utilizing Creative Ministry techniques. Yes, they have a conference which is top-notch but they also offer some incredible FREE resources at their SEEDS website.  Complete series including audio, video, run-sheets and more are available.
MUDDY RIVER MEDIA - No strings attached! is a registered, non-profit mission society which exists to consistently provide free, quality media resources for churches using the internet as the primary delivery tool.
They create and offer media such as:
Illustrative Videos
Small Group Videos and talk sheets
Motion Backgrounds
Life Story Videos
Countdown Timers
Stock Photographs and Illustrations