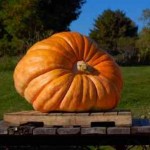 It's our favorite season! FALL! And that means big pumpkins and big giveaways. Our friends at Childrens-Ministry-Deals.com are giving away $10,000 worth of resources this month.
So, here goes. Enter the giveaway by doing two things:
1. Visit the CMD website by clicking here: http://www.childrens-ministry-deals.com/pages/updates and enter your email in the box.
2. Make a comment below with the name of your favorite TV show that you watched growing up. Make sure you do this by 5:00 p.m. on Monday, October 31. That's when the winners will be chosen.
Here's what we're giving away:
1st Prize: DVD Box Set of your favorite TV show, along with $1,000 worth of Children's Ministry Resources from the Childrens-Ministry-Deals warehouse.
2nd Prize: Driving Force Elementary, Preschool, and Nursery Curriculum Set from Craig Jutila & Empowering Kids ($300+)
3rd Prize: 3 People will receive the OneTimeBlind Video & Script Collection ($615)
4th Prize: 10 people will get coupons for $50 off any purchase of $100 or more from Childrens-Ministry-Deals.com and the YANCY worship CD "Beautiful Sound ($15).
5th Prize: 100 people will receive the Kidz Graphics 2011 collection that is perfect for using with any presentation software to spice up your Children's Ministry programming (http://www.childrens-ministry-deals.com/collections/frontpage/products/kidz-graphics-2011)
6th Prize: 100 people will receive the Collaborate eBook written by Michael Chanley + the Group of 34 that retails for $7.99 from Amazon (http://www.amazon.com/Collaborate-Family-Church-ebook/dp/B004EEOABS/ref=sr_1_2?ie=UTF8&qid=1318473990&sr=8-2)
7th Prize: Everyone who enters will receive a free Children's Ministry countdown video that retails for $7 from WorshipHouseMedia.com
Winners will be notified by email on Tuesday, November 1.
Meet Jenny   She's the childrens-ministry-deals.com kidmin deal guru.