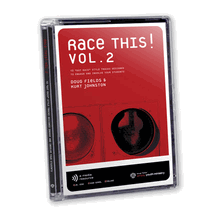 Yesterday we began a series on the "How-to" of a Sunday morning Children's Church/Large Group production. Yes, I believe putting all the elements together to create a great learning environment can be properly called a production.  Today we are Giving Away one of our favorite "FUN ELEMENTS" – "RACE THIS." This resource includes 10 "Dot Race" style tracks designed to engage and involve your kids. Our kids LOVE 'EM!
So, how do we put together a Sunday Morning Production?  It all starts with the "End Goal" in mind and knowing the "Big Idea" that we want kids to remember.  Each week we start our planning with:
1. Time Allowed
2. Big Idea
3. Permanent Elements (Intro, Worship, Offering, Teaching)
4. Staff Available
From this list we begin to work forward by reviewing our OPTIONS:
1. Game Time (could be a race from "Race This")
2. Object Lesson
3. Drama
4. Puppets
5. Bible Drill, etc.
The next step after selecting which elements we will use is to break it down into the time segments required for each.  From this we create a "Run Sheet." This Run Sheet, once it is completed, is posted in the tech booth, in the dressing room and on stage.  Our goal is for the service to flow from one element to the next seamlessly.  We want the production to have a sense of forward movement from beginning to end.  Our greater goal is for kids to leave knowing the "Big Idea" and with them being challenged to "Do" something with what they've learned!
So, how do you WIN this FUN resource?  It's simple!
To enter TODAY'S DRAWING for "RACE THIS" Volume 2, sign up for our CM Buzz Newsletter. We'll draw a name first thing tomorrow morning from all our subscribers and announce the WINNER!
Double your chance to win by also leaving a COMMENT here at CM Buzz about your Sunday morning production order!
The Winner of yesterday's "Countdowns & Transitions" DVD is Luke Alvarez! CONGRATS LUKE! Send an email to Keith@CMBuzz.com with your mailing address and we'll get this right out to you.