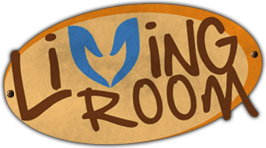 Today we continue with our discussion of the New book "Intentional Parenting" by Tad Thompson.  Each day this week we are looking at a portion of the book and the recommendations made to improve parental discipleship.  We value your input and as a Thank You we are giving away 5 copies of the book courtesy of Cruciform Press. Simply leave a Comment and you will be entered in our drawing to be held on Saturday.
So, let's take a look in the Living Room.  Tad starts by revisiting Moses' directive to parents in Deuteronomy 6.  As you read through Moses' statements here you fully understand that parental discipleship is an on-going, daily process.  I love this statement from Tad: "Discipleship is most effectively accomplished when the practice is integrated into the rhythm of everyday life."  We are directed by scripture to weave discipleship into everyday life so that our children see it as a natural part of our daily routine.
In "Intentional Parenting" there is a recognition and definition of "Four Spheres of Family Influence" that can help to create a strategy for discipling our children.
Sphere One – Home
Sphere Two – The Community
Sphere Three – The Church
Sphere Four – The World
"Intentional Parenting" goes into detail about each of these areas and how we can make an influential impression in each sphere.  A few examples:
Home – meals, family game night, bedtime
Community – drive to school, grocery shopping, serving
Church – corporate worship, ministry opportunities
World – watch the news, family mission trips, giving
In the spheres of influence where do you find it easier to connect with your child?  where do you find it most difficult? What is one area you would like to see parents really buy into? Let us hear your voice Leave a Comment.
Leave a Comment for your Chance to Win a copy of "Intentional Parenting."  We are giving away 5 copies to our readers this week!
Invite your friends to participate in our discussion and Double your Chances by Tweeting (copy and paste):
@KeithTusing You could WIN a copy of "Intentional Parenting" – Join the discussion at http://cmbuzz.com today!