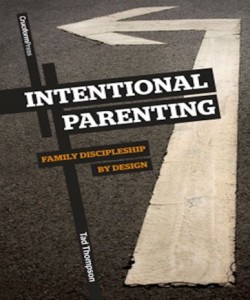 This week we are going to take a look at the NEW book "Intentional Parenting – Family Discipleship by Design" written by Tad Thompson.  Tad is a father and the Lead Pastor of Harvard Avenue Baptist Church in Siloam Springs, Arkansas.  One thing that most of us can agree upon is that we must continue to improve upon how children are discipled.  This book was written with that concept in mind.
"Over the preceding twenty years the number of full-time youth pastors has grown dramatically and a plethora of magazines, music, and ideas aimed at youth has been birthed along the way.  Meanwhile, during that same time span, the numbers of young people won to Christ has dropped at about as fast a rate."  - Alvin Reid, professor of evangelism Southeastern Baptist Theological Seminary.
We've all heard it said that parents must become the spiritual leaders of their children.  The statement above clearly points out that things must change in our churches if we are to accomplish this mandate.  So, how do we as leaders of Children's and Youth Ministries work toward "giving back" the responsibility?  In "Intentional Parenting" Tad is writing with this stated objective:
"It is my desire that this book will help the local church equip parents to engage in the discipleship task." – Tad Thompson
This week we are going to take a Chapter by Chapter look at what "Intentional Parenting" recommends. The chapters include:
The Need – The Mirror – The Kitchen – The Living Room – The Bedroom – Time to Engage
So, what to you think of Alvin Reid's quote? What do you see as the primary reason for the decline in kids coming to know Christ?  Leave a Comment for your Chance to Win a copy of "Intentional Parenting."  We are giving away 5 copies to our readers this week!
Invite your friends to participate in our discussion and Double your Chances by Tweeting (copy and paste):
@KeithTusing You could WIN a copy of "Intentional Parenting" – Join the discussion at http://cmbuzz.com today!