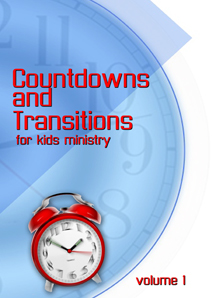 Dead Time…It's a killer in any service! But it's particularly painful in a Kids Service! One of the Major Goals for me on Sunday morning is to make sure that our service flows smoothly without any delays or stops.  The quickest way to lose a child's attention is have moments where there is nothing happening in the service.
We use several tools each week to help avoid the dreaded "dead time" in the service.
Tool #1 – Proper Planning
We make sure that the service is planned out to the minute each week.  Our service elements are all tied together with the end goal in mind.
Tool #2 – Rehearsal
Our adult worship team would never begin a service without having had a rehearsal.  Why would we do anything less for our kids?
Tool #3 – Run Sheet
We post a "run sheet" in the tech booth, in the dressing room, and on stage.  Our run sheet has our service elements broken down with the clock time and the run time noted to the minute.
Tool #4 Countdowns & Transitions Video
We use video that includes countdowns and transitions for each service element.  These include visuals and sounds/music.
Today we are holding a drawing to Give Away a "Countdowns & Transitions" DVD.  We use them every week and have found them to be an incredibly valuable tool in our ministry.
To be Entered in the Drawing to WIN a Countdowns & Transitions DVD simply tweet this today(copy & paste):
@KeithTusing is giving away a copy of "Countdowns & Transitions"  Check it out at http://www.cmbuzz.com today!