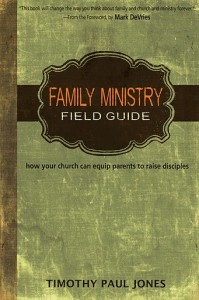 We have all heard the Infamous Evangelical Dropout Statistic – 80% – 90% of our students are dropping out of church after they graduate from High School.  Most of us have probably quoted this statistic in our churches and to our staff members.  Many of us have used this statistic to push for change in our Children's and Youth Ministries.  The question that Dr. Timothy Paul Jones brings to light in "Family Ministry Field Guide": "Is your church actually losing that many?" In FMFG Dr. Jones makes the case with actual facts that the Drop out rate is totally incorrect.
Today is Day #2 of our discussion about Dr. Jones' new book "Family Ministry Field Guide." As we continue our discussion we are also giving away another copy of the book (details about your chance to WIN are below).   I will say that I think FMFG is a must-read for everyone involved with children, youth and families.
So, what do you think of the Drop Out Statistic?  How many times have your heard it quoted?  Have you quoted it yourself? I confess I have personally quoted this stat myself.  Where do you think this "set-in-stone" statistic originated?   Dr. Jones shares some enlightening facts in his book that should make a difference in our perspective and maybe in our approach.   But, even assuming this oft quoted statistic were correct would it be enough reason to realign the ministry models of your church?  What about Jesus…how concerned was he with attrition rates? Check out John 6:1-70!
Now, what do you think of this quote from Dr. Jones: "Whenever anyone drops out of active involvement in Christian community, the congregation is correct to be concerned! Yet neither numeric retention nor expansion can constitute a sufficient goal for reshaping a church's practices.  Jesus is the paradigm for the growth of God's people (Phil. 2:5, Heb. 12:2)  The church is the body of Christ, and the church's value and identity flow down the all-surpassing glory of Jesus (Eph. 4:12-16; Col. 1:24-27; 3:1-4). The goal of the Gospel is not a human ideal of retaining members in a visible community; the goal is to call people to Jesus. And so the critical question is not, 'How many participants have we retained? ' but 'Who has glimpsed the truth of Jesus and the gospel in what we are doing?' Retention rates aren't the launching pad or the end-point of God's plan; Jesus is (Rev. 22:13).
Ok, today's post should give us all some thoughts to ponder! So, what are your thoughts?  Let's hear your comments!
Answer one or both of the questions below with a Comment to be Entered in Today's drawing for a copy of "Family Ministry Field Guide."
Does what you've read cause you to rethink some existing assumptions?
What do you think of this quote:  "American evangelicals, who profess to be committed to Truth, are among the worst abuser of simple descriptive statistics…of any group I have ever seen.  At stake in this issue are evangelicals' own integrity, credibility with outsiders, and effectiveness in the world." – Christian Smith
To Double your chances in today's Drawing to WIN a copy of "Family Ministry Field Guide" simply tweet this Today (copy & paste):
@KeithTusing is giving away three copies of "Family Ministry Field Guide" Check it out at cmbuzz.com today!