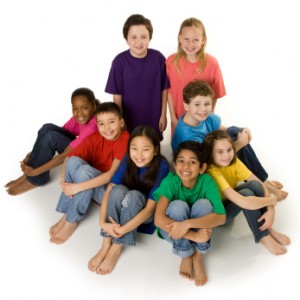 Well, it's Monday morning after Day One of our Children's Ministry Launch.  The final touches were being put on our CM Remodel late Saturday afternoon.  We have some incredible Volunteers who were totally invested and stayed until it was ready for Sunday morning!  Thank You to everyone who gave so much of their time and money to make the "Fun Factory" a reality.
When it was all done our Stage was presentation ready, our A/V Booth was presentation ready, our Computer Check-in was up and running and the Bible Bucks Store was stocked.  Again, our volunteers took the ball (the vision) and ran with it!  We still have some "tweaks" to finish each of these areas.  All of the tweaks have to do with the aesthetics.  Our logo is still in the design phase and it will become an integral part of our "look." We have some additional "piping" to do on stage along with some additional lighting to add.  I would say we are 90% complete.  But, even with the "tweaks" needed our people were WOW'ed!
It was  great Sunday with the first presentation going smoothly.  Most of our A/V Crew and all of our Small Group Leaders were novices.  They were Incredible!  The kids were engaged start to finish and the adult/teen leaders had a great time with them.
Our only "glitch" involved our New Computer Check-in.  We have just begun using KidCheck as our check-in system.  It has been a really simple system to use.  The "glitch" came from the families who had not pre-registered prior to Sunday morning.  Yes, we sent a letter home explaining the On-line process to each family.  Those who did pre-register were able to check-in very quickly.  The majority however did not and this led to long lines.  My amazing wife, Julie, and our Senior Pastor were awesome at letting people know it would not be like this after day one!  I loved the fact that Pastor Lloyd, our Senior Pastor, was actively involved on a Sunday Morning!
So, that was Day One!  It was great! I will be posting photos later this week!  So, check back soon.