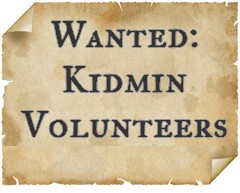 If you've been following along here at CM Buzz you know that I recently made a move to Crystal River, Florida.  I accepted a position at Gulf to Lake Church and was given the direction to Create something NEW for the Children's Ministry.  We have now been in that process for six weeks with the majority of that time spent on construction within the Elementary Children's space.  You can view photos of our Construction process at the earlier posts: "A New Place of Ministry" – "Day Three of our Children's Ministry Remodel" – "Day 5 & 6" – "Day 7 & 8" – and several more.  We'll continue to post additional photos as we move forward.
Now, with our "Grand Opening" only Six Days away we have been busily recruiting and interviewing prospective Children's Ministry Volunteers.  My goal has been to personally meet and visit with each NEW volunteer prior to our first Sunday.  I am encouraged to note that we have had 60+ NEW people step-up and commit to serving in the Children's Ministry.
Knowing that we have just one week left it was time for our Children's Ministry Orientation.  We met Sunday morning following our second service. and this was our agenda:
Welcome & Thanks
Prayer
Vision for the Fun Factory – to Build kids and Families that Love God & Love People
Rules
1. Remember why we are here…
2. When someone on stage is speaking…
3. Have FUN!
Discipline 3 R's – Request – Reseat – Remove
Children's Ministry Application – (must be completed by each volunteer)
Children's Ministry Handbook (everyone is given a copy)
Kid Check (explain the NEW computer check-in process)
Fun Factory Volunteer Teams – (we have 9 different service teams)
Sign-ups (sign-up lists for each unique area of service)
Prayer – Dismiss
Our Orientation Meeting went great.  It was well attended with 80 – 90 percent of those attending being NEW to the Children's Ministry.  This week we will be following up with Background Checks, Interviews, Reference Checks and Rehearsals.  It going to be BUSY!