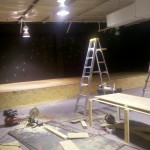 As I shared before I am in the beginning stages of Remodeling  and Restructuring the Children's Ministry at my NEW position.  Here at Gulf
to Lake Church I have been given the "Green Light"  to "create something NEW and Exciting for our Elementary Kids.  Now, doesn't sound like FUN to you?
So we have now completed Day 3 of our physical remodel in the Elementary Kids space.  Day one was demolition – taking the room back to the bare walls.  Day two was beginning to build the trusses for the stage area.  We have now completed the rough-in of the stage.  It is 13 feet by 35 feet and it felt great to lay the last section of the plywood into place!
Tomorrow we will begin construction of the stage wall and continue with the relocation of the air duct.  Our goal for the stage is to create an area that is brightly colored with multiple entrances and exits.  Our working title is "The Fun Factory" and "pipes the lead to nowhere and do nothing" will an an element of "cool."
With each post I'll be sharing our progress in words and pictures.  So check back often and let hear your thoughts.