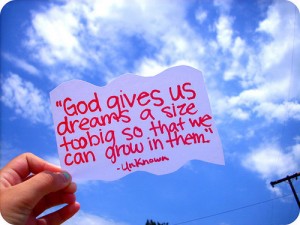 Ask yourself: What would I do if money were not an obstacle? Would you be serving where you are and doing what you're doing if you had an option?  What are things in your ministry that really motivate you and move you to action?  What are the things that you would stop doing today if you could just walk away?  Are you in a place where you feel the presence of God on a weekly/daily basis?  When you walk away from the church on Sunday afternoon do you feel like you've had a worship experience?
Passion is the fire that ignites creativity. Passion is energy to keep things moving.  Passion is the desire that just will not go away.  Passion is what drives the bus when things look bleak.  I believe in each one of us there is a God-instilled Passion to do incredible things for His Kingdom.  We as leaders need to look inside and discover the God-inspired Passion that will enable us to do "more that we hope for, more than we can imagine.
Who wants to mediocre? Why would you just want to be average?  To do something extraordinary requires us to dig deep and find the thing that God has imagined for us.  As parents we all have hopes and dreams for our own children.  Do we really think that our awesome, incredible, amazing Heavenly Father desires any less for His own children?
Are we really chasing after God sized dreams or do we settle for something less?  Right now I am on a path to discover exactly where God would have my family and I serve. I want His Vision, His Goals, and I know He'll give me the Passion, the People and the Plan to attain it.
So, what's you Passion?