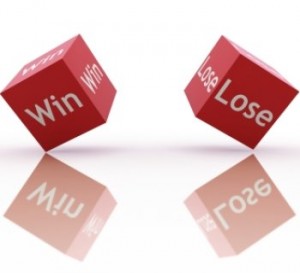 We live a society that often says "Winning isn't everything it's the only thing!" I see it all the time in varying degrees in youth sports.  Early in life I held to this idea as a teen and even into young adulthood.  I still believe that competition is good when there is a healthy understanding of winning and losing.  I've known grown men who would stay in a particular softball division just so they could dominate rather than move up a level and have the potential for losing.  Losing is not something to fear – losing can be a great teacher.
So how does this apply to ministry? If things are going OK and the ministry is moving along why change anything?  I believe we can get into a comfort zone and become complacent and even develop a fear of change.  It's often easier to maintain the status quo rather than make a change and risk failure. Failure should not be feared it should be evaluated and sometimes even embraced to a degree.  I often learn more from my failures (yes, I've had a few ) than I do from my successes.
One thing for sure is that if you never try anything new the risk of failure is diminished.  However, the risk of not reaching your ministry potential is dramatically increased.  We serve an awesome, creative God and His desire is for us to step out on faith and do something extraordinary.  When was the last time an event required real faith and held the potential for massive failure?  The only person who never fails is the one who never tries anything new.
We shouldn't be so consumed with getting the win that we don't "step up a division."  Dream Big, Plan Well & Go For it!