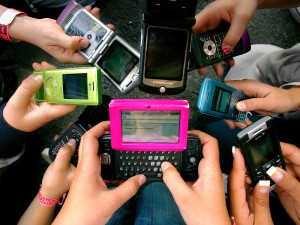 Didn't you love the playground when you were growing up?  I did!  The giant slide, the swings and the monkey bars were amazing.  Today's kids still love the playground…only it's a different playground.  Their playground is digital.  From the games they play to the way they connect to kids, it all involves digital media. Computers, cell phones, Twitter, Facebook, etc. have all grabbed the attention of our kids and they will not let go.
Cell Phones – you know you have one.  Today kids are getting them at younger and younger ages.  Recently my 8 year old daughter (she's beautiful) informed me that she needed a cell phone.  Being the loving father that I am I quickly informed her that we had a phone here in the house that she was welcome to use.  But the truth is more and more kids her age do have their own cell phone.
As leaders in ministries designed to reach, teach and connect to kids we have a choice.  We can continue to lament the way kids "play" today or we can find ways to use their "play" to our advantage.  It's going to be better if we opt for the latter of the two.  So how do we use their craving for social media to our advantage.  Get Connected!!!
So what are some ways we can connect with this Digitally Connected Generation?
Internet – create a list of suggested websites for kids.  Choose sites that are fun and that can share the Gospel in creative ways.
Website – we are in the midst Children's Ministry website makeover!  One of the goals is to make the site interactive with applications that will draw kids back often.
Email – collect the email addresses of you upper elementary kids and create E-vites for your events.  Send out the verse of week and reminders about the Bottom Line of the week.
Twitter – invite your cell phone enabled kids to follow you and let them in on "What are you doing?"
Facebook – get a glimpse of your kids outside the walls of the church.  It will improve your connection to them.
Of course all of the above must only be done with parental permission.  We can also encourage parents to connect with their kids digitally.  It may surprise them how much of a benefit it can be to be connected via their kid's world.  Let me know your thoughts and how you are using media to minister.