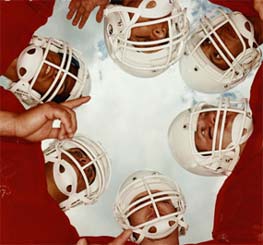 I am a volunteer youth football coach. Football is by far my favorite sport to watch, to play and to coach.  My youngest son, Tanner, plays on the team I currently coach and it's a great deal of fun.  Football is truly a team sport it takes every player on the field doing their job well to be successful.  It is also a sport where the coach has a great deal of influence on the success or failure of the team.  That's why I think there are a lot of similarities between coaching football and leading a Children's Ministry.
One of the most important things that happens during a football game is the huddle.  In the huddle the QB calls the play, exhorts his team, and leads the team.  We as leaders in Children's Ministry often fill both the roles as coach and QB.  So how do we serve as both coach and QB?
Coach
Vision – you've heard it before and it's still true.  As leaders we must paint a picture of what success looks like keep it in front of our people.
Plays – curriculum, special events, and leader meetings all determine the direction of our ministries.  Choosing or designing the right plays is critical to the success of the team.
Challenge – too often we try to recruit with tales of how easy it is.  That's not how Jesus did it.  I've often found that, just like in football, when you explain the true challenges involved and call people to step up they will do just that.
QB
Exhort – long term ministry can be tough yet hanging in for the long term pays huge dividends.  Continually encouraging our team with positive affirmation in many forms is one way to help team members to stay in it for the long haul.
Lead – leaders make the tough decisions, leaders take the heat for other people's mistakes, leaders are continually learning, leaders show compassion, leaders see the big picture, leaders invest their time in the right things, leaders take the team down the field.  Be a leader.
So how do you pull off the huddle? My personal favorite in CM is a quarterly meeting that is billed as important for everyone involved with our Children's Ministry.  My goal is that each meeting is encouraging, educational and FUN! One of the goals in our Children's Ministry is to instill the value of FUN in all that we do.  In the "huddle" or leader meetings these are the Key Components:
Share Success Stories
Laugh together with silly games
Learn together
Encourage one another
Cast Vision
Challenge team members
Pray for one another, our kids and our church
What are the best elements you include in your team meetings? Are you taking time to huddle with your team regularly?  What are the benefits you see from the "huddle"?