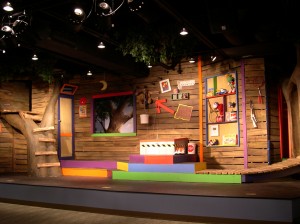 Today there are a number of churches using creative themes in their children's and youth facilities.  Castles, Jungles, Airports, Skate Parks and other various themes are being used to capture the attention of students everywhere.  In some cases former Disney designers and others with similar backgrounds have been hired to custom design a theme for a children's or youth ministry.  The question has been asked is this really necessary or is it just an insignificant expenditure?
To address this question I think the first step is to take a look at: Why this is a growing trend? One concrete fact is that Children, Preteens, and Teens have become a major target of marketing.  There are companies using every imaginable type of media to attract the attention of students and convince them their product is a "must have."  Television, Video Games, Computers, and Cell phones are all vying to be heard by today's students.  There is a visual and audio assault on our kid's everyday.  Into this arena steps the church with a voice that is often using yesterday's tools to communicate the most important message of all.
Also, in a very real sense the sheer volume of messages being communicated should cause us to ask the question:  Are we doing all we can to get out message heard? Standing out among the voices clamoring for attention can be difficult.  It has been stated that we have approximately 8 minutes or less from the time a family arrives to capture the attention of a child before they decide whether or not to listen.
We have the greatest message in the world.  How can we not use every tool available to tell Christ's story?  A creative theme can help communicate our message at first glance and on so many levels.
#1        The WOW Factor – the moment a child arrives we have the opportunity to make a statement about what they are about to experience.  Will it be interesting? Will it be good?  Will I have fun?
#2        Parent Perception – families have so many options about where they invest their time.  What is the first impression your facility makes on a parent?  Is it attractive?  Is it clean?  Does it look like these people know what will interest my kids?
#3        Create Shared Experiences – yes, even your facility can help create a shared experience for the family.  Think about the appearance of an amusement park…it often opens the door for discussion between parent and child.  What did you see?  What was most interesting to you?  Did you notice…?
#4        Communicate the "Big Story" – with the right theme you can communicate a great deal about your ministry without every speaking.  The Vision of your ministry can be captured in a Creative Ministry Theme and communicated to everyone.
So, I land heavily on the "Important" side of Creative Themes.  It is not fluff or
insignificant.  We must use every tool at our disposal to communicate to families the value of a great Children's or Youth ministry.  Creative Themes can help do this with excellence.  What do you think?  Share your Creative Theme ideas? Send some pictures of your space.