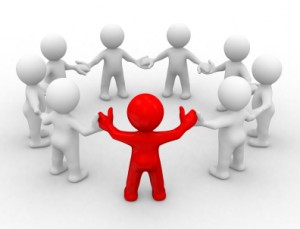 One of the keys to successful ministry is recognizing that you can't do it alone!!!  If you are just starting out in ministry finding someone to come along side you is vitally important.  If you've been engaged in ministry for many years you've probably experienced those times when it's lonely at the top (or at least as high as the Children's guy/girl can get J).  Having been in full time ministry now for 18 years I've experienced both the highs and lows. Connecting with others that share the passions, dreams and struggles of ministry is critical to longevity.
Networking is the answer.  Find others in your area that you can connect with on a regular basis to share the journey of ministry.  If there is an active network in your area get involved and become an active member.  You say there is not network where you are – then start one.  What are the steps?
1. Make Contacts
Pick up the phone book
If that's too old school use the Internet
Ask your Pastor and staff for local referrals
Do a drive by – just stop in the next time you pass a church
2. Compile a contact list
3. Schedule a meeting
4. Extend Invitations via Postcard, Email, Telephone, etc.  Include an
introduction
Finesse the Details
Table – could be sack lunch, snacks, pizza you decide
Tags – name tags…really…it'll help everyone
Talk– set an agenda for your discussion and facilitate it
Team – invite the attendees to help grow the group and make plans
Tour – take everyone on a tour of the facility that's hosting – rotate hosts
Time – set a start time and a finish time – honor the schedule
Does it sound like a lot of work?  Well in the beginning it can be…but it will be worth it is so many ways!  The connections and friendships you make with people who share you love for God, for ministry and for kids will bless you over and over again.  You'll be rubbing shoulders and growing together.  You'll benefit, your kids will benefit and the Kingdom will benefit.  Get started today.