Volunteers are the life-blood of any successful ministry and a leader's success is inextricably woven together with their success in recruiting, training, coaching, and encouraging volunteers. A key factor in success with volunteers is discovering their personality, talents, and spiritual gifts.  The Ministry Zoo of Volunteers is one way to help quickly recognize these traits and place your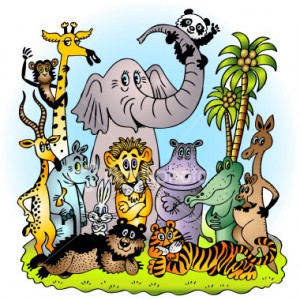 volunteers in memorable categories.  This will help you place each volunteer in a position that they will enjoy and have the greatest potential for success.  A successful volunteer is a happy volunteer and a happy volunteer is a benefit to the entire ministry team.
So, let's take a look at some of the animals inhabiting our Volunteer Zoo:
The Elephant – a strong work-horse who never forgets the details and has the stamina to stay with a project.  Coaching sometimes requires the Elephant to understand the need to step out in faith.
The Lion – bold and brash, totally unafraid to confront the sacred cows and help to eliminate unnecessary fluff.  Coaching often entails helping the Lion to develop patience and an understanding that others may need gentle direction.
The Monkey – fun, creative and looking for a party all the time.  The Monkey brings an element that is critical to the team, yet sometimes he has to be coached to stay on task and recognize that there are times to be serious too.
The Giraffe – the dreamer, sees the vision for how things could be when we reach for the clouds.  Coaching the Giraffe requires us to help them see the steps necessary to reach the vision and encourage them to help participate in those steps.
The Beaver – the dedicated worker who sees the work required to build a successful ministry and is willing to do the day-in and day-out work.  Coaching the Beaver often requires encouraging them to see the big picture and help them understand where they fit in the grander scheme.
These are a few to the animals inhabiting our Volunteer Zoo and each one brings passions and skills that will benefit the team.  As we recognize those passions and abilities it helps us to place them where they are most likely to succeed and experience the joy of ministry.  Placing a The Giraffe in a position where they are asked to do the same thing over and over again will be frustrating and lead to burnout.  Asking The Monkey to handle hospital visits and grief counseling would hinder them from contributing their best to the team.  As leaders, our responsibility to the individual and to the ministry team requires us to exercise discernment when placing a volunteer in a ministry position.  Take some time and think through where your current team members are serving.  Does the position they are in match who they are and do they feel valued and successful?  The answers will determine the long-term success of the ministry
Check out Bible Stories for Children