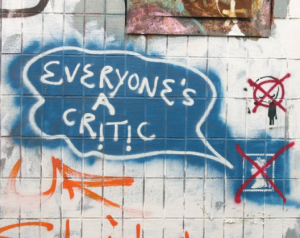 CRITIQUE
Critique is to often seen as "a criticism or critical comment" when a truly valuable critique can actually mean to "review or analyze critically." A critique that is done with the intent to encourage improvement is incredibly valuable to a team.  For any ministry to have long term impact and sustainability the leaders must continually be open to critique.
Now, this does not mean you must listen to every criticism that is aimed at your ministry.  It is really quite the opposite.  Once you have taken the steps lined out in the previous 3 C's; Connect, Communicate, and Coach, you will be well on our way to being able to evaluate the difference between a critique and criticism. As long as you and your team are doing something valuable for the Kingdom you will be criticized. The key is to know when the criticism is justified and be ready to look at your ministry honestly.
What are some things that need to be regularly critiqued?
Sunday Mornings services
Are they well produced?
Do kids enjoy attending?
Are families receiving the guidance they need?
Special Events
Was the "why" clearly stated and communicated?
Was there a goal and did you reach it?
Did you do follow-up?
Team members
Do you regularly observe classroom teaching?
Do you give helpful critique and coaching regularly?
Do your leaders make contacts outside Sunday morning?
Children's & Family Leader/Director/Pastor
Are you building real relationships with your team?
How is your time management?
Are you properly balancing your family and ministry?
Taking the time to do honest evaluation will make an amazing difference in the effectiveness of your ministry.  One of our goals must be to be open to regular critiques.  Then once we are made aware of where we need to improve create Action Steps to make the needed improvements.  Our team members, our families and ministry will benefit.
What other areas could we apply the principle of critique?  What is the toughest area in which to be honest about our performance?  Let me know what you think.