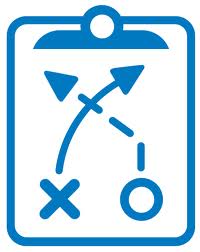 COACH
Coaching your ministry team at times can be difficult, yet it can also be one of the most rewarding aspects of your ministry.  Having been involved with sports for most of my life both as a participant and a coach I know the incredible value of a good coach.  I have also seen the effects of poor coaching.  So what does good coaching look like in the context of ministry?
Something a good coach develops is an eye for talent.  As a ministry leader you must always have your eyes open to finding good team members.  Are you actively looking for potential team members as you walk the hallways of your facility on Sundays?  Do attend other ministry events at your church and intentionally introduce yourself to those you don't know?  Are you actively involved in your community as a volunteer outside your church?  Everywhere you go there is the potential of meeting the next star of your ministry team.  Go with the intent to look for talent.
Another thing that a good coach does is know the needs of the team.  What positions are open?  What positions need improvement?  What positions need fresh faces or a new perspective?  As a coach you are constantly evaluating your team members.  You know who is succeeding, who is struggling and who may need to be cut.  Yes, I said it, sometimes a team member need to be cut loose from their present ministry and allowed to join the choir (as a former worship leader I can say that J).  A good coach knows where change needs to take place on their team and is willing to make the tough decisions and get it done.
Good coaches always have a game plan. As you recruit and train your team do you have a game plan in place?  Is it clear to those on your team what is expected?  Is it clear what success looks like?  Have you taken the time to communicate, demonstrate and facilitate their road to success?  Too often the coaching step is left unaddressed and that leads to frustration and eventually burn out.  So, are you coaching your team intentionally?  What does your game plan look like?  What will you do this week to improve in the area of coaching?
Let me know.