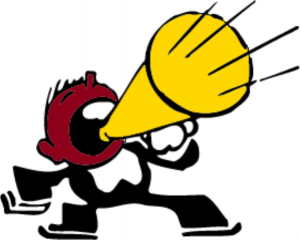 COMMUNICATE
Clear communication is a vital part of any ministry and none more so than Children's & Family ministry.  Communicating clearly the vision, strategy, goals, and successes of the ministry will lead to continued success. A lack of clear communication will impede its growth or potentially lead to its failure.  The questions of who, what, when, where, why and how must be repeatedly addressed by leadership. It has been said that Vision leaks and that good leaders must continually work at overcoming this principle.
The first question that must be answered is: What do we want to communicate? Let's look at each piece in a little clearer detail.  It is vital that once we know the Vision for our ministry we are able to, in one or two sentences, communicate the vision to everyone who will listen.  The vision for our ministry is the driving force that will shape present and future decisions, that will affect how and what we do as a part of the ministry.  The second question to answer is: Who do we desire to communicate to?  There are several tiers of interested parties that we must consider.  These include Parents, Ministry Teams, Church Leadership, Church Members, and others that may have a vested interest.  Each group can be either a benefit or a hindrance, which group an individual falls into is often determined by how clear communication is about the details of the ministry.  For a ministry to be successful the lines of communication must always be open and the leader of the ministry must be proactive about the outgoing communication.
Now let's take a look at the How of communication.  There are numerous avenues of communication that are available to every ministry regardless of size or budget.  One of the best communication tools is intentional, personal, one-on-one sharing.  If you are excited about your ministry and you have a clear vision of what you desire for the ministry to accomplish this part is easy.  We talk about the things that we are excited and passionate about.  Passion is contagious.  Take every opportunity to share the exciting things that are happening in your ministry.  Social networking on the web can also be very effective while at the same time it's only cost is the time you invest.  Join Facebook, Twitter, or create a Blog and invite everyone you know to join your network.
Our ministry to families is so important that communicating with excitement comes naturally. Be creative look for ways to connect with those who have an interest in your ministry and get busy.  As soon as you finish reading this blog make a list of the new ways you are going to communicate and let me know.  I would love to hear some of your ideas on communication.