Artwork
True to Scripture
Entertaining
Kid Friendly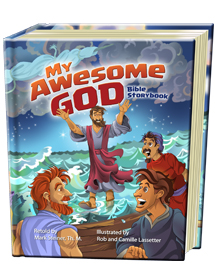 I was recently invited by DiscipleLand to review their new book "My Awesome God- Bible Storybook." It is really a lot of fun to receive new materials and be asked for your opinion.  I just love NEW stuff!
Some people look into a
bachelor degree in religion online to learn more about teaching
religion to children.
When we received the book at home the first thing I did was sit down with my 8 year old daughter to look through the colorful pages.  Right away we were blown away by the amazing artwork.  The pages are bright, the character depictions are interesting and overall it's a beautiful book.  Kudos to Rob and Camille Lassetter!
The next thing we did was read through a couple of the stories.  It's especially fun for me, as dad, to sit with her and read the stories of the Bible.  One of the great things is that the stories are written in language that she can read and understand.  Another added benefit is that the scripture references are provided at the top of the page of each story. If we choose to we can immediately go deeper into the story or find context on each side of the story.
Also, at the end of each story is a "Discover God!" statement along with a discussion question.  These are wonderful tools for parents that can spark spiritual discussions.  All of us as parents can benefit from having access to tools that aid in passing on a generational faith.
The best part about receiving the New "My Awesome God – Bible Storybook"…my daughter, Christy, has read several stories every day since we received the book.  That in itself makes "My Awesome God"  an incredible investment.  When a child is drawn to read the amazing stories that tell the "Big Picture" of our God that is a HUGE WIN!
Thanks to the folks a DiscipleLand for providing a resource that is already benefiting my family and I'm sure will benefit many more!