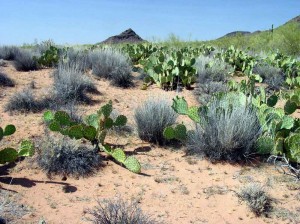 I live in Phoenix, Arizona also known as "The Valley of the Sun."  If you've never been to Phoenix you need to know it's a desert.  The thing I notice most is the absence of green grassy lawns.  Now, some people do try to grow grass in their yards with a modicum of success.  It takes a lot of work!  That's what I want you to keep in mind as we think about ministry.
One of the issues about being involved in ministry is this idea that things should come easier.  Well, first let's remember most of us live in a spiritual desert.  Biblical literacy is at an all-time low and that coupled with the growth of pluralism in faith has created a dry and thirsty land.
One of the greatest problems with serving in ministry is that people don't even realize they are thirsty.  Their lives are so filled with busy-ness that they have placed strengthening their faith low on the priority list.  All you need to do is to take a look at a family's calendar to know what is most important in their home.
As ministers committed to reaching and teaching families we must take in to account where people are in their faith journey.  Once we have discerned a family's priorities we can then begin to map out our strategies to help them understand where they are spiritually and what the next steps would be helpful in their growth.
A couple of the strategies we are utilizing:
Encouraging families to schedule and spend time at home reading and memorizing scripture together
Providing take home materials for families every Sunday
Rewarding kids for completing the "home work" with their parents each week
Creating a Resource Center for parents
Sending out a Weekly Email with the Key Points from Sunday's Lesson
My hope and prayer is that each family will find something that will create a thirst for spiritual growth.  As we continue in this "desert" our goal is to be an "oasis."   We have the "living water" and our passion is to get that water to the thirsty!